November 21, 2007
Gartner sums up the CIO debate on identity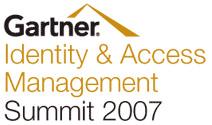 It feels good to come to any conference and hear people talk about concepts and trends that validate the direction we are taking. And the Gartner IAM Summit certainly did that. Steps that we are making in the areas of role management, identity services and the move towards tighter integration of identity into the fabric of applications seemed to resonate with the analysts and customers that were presenting. And the overall tone of the conference seemed to indicate that good times lie ahead.
I missed the first day of the conference because of the overlap with OpenWorld, but I did manage to catch sessions the next day and a half. From what I saw, the sessions at this year's conference were designed to cover the entire gamut of everything that exists today in the IAM space. That meant talks that ranged from authentication to role management to user-centric identity.
Here are some thoughts from my experience at the conference:
In light of the broad coverage that Gartner was trying to achieve, it was interesting that

User Provisioning

was not covered in any
sessions (unless it was discussed on day 1, but the agenda didn't seem to indicate that). Could it be that UP is ubiquitous enough that it is well
understood, or is it simply too boring a topic?
Gartner seems to have upgraded

Role Management

from an interesting but difficult solution to something that is "doable".
The new darling of the analysts seems to be the line of products that play in the

Identity Auditing

space.
I was pleasantly surprised by the amount of coverage that

Identity Services

received at the conference. Earl Perkins did some good sessions on the topic, providing a good explanation of the concepts to the audience.

Externalized Authorization

also received a fair amount of coverage, but it is still being presented as an edge technology due to the revamp it forces on application architectures.
The wrap-up panel discussion seemed to sum up the main discussion topics of the conference, as it focused on three angles to approaching IAM that CIO's are now faced
with – Compliance, IT Efficiency and Enterprise Architecture. Unfortunately, Identity Services was the loser in the shootout as it was viewed as being too long-term of a solution to invest in. However, if we don't start investing in it now, it will never arrive. We have to move beyond simply reinforcing the fortress model we currently have to reinventing how we think about identity.
Lets hope that we are able to achieve something in identity services over the next year to warrant discussion at the next Gartner IAM summit.